Hobart is a perfect slice of urban living on the edge of pristine wilderness. Study in the heart of the city, on the harbour, and by the beach.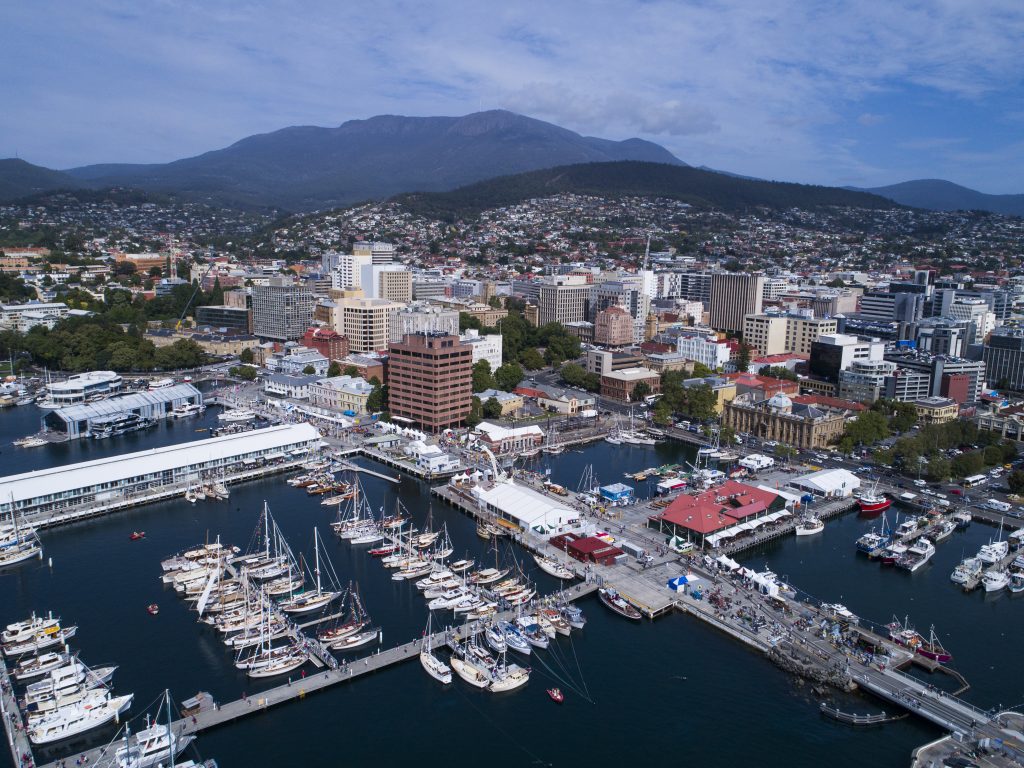 University of Tasmania International Pathway College is based at the Sandy Bay Campus in Hobart and this is where the pathway programs are delivered.
The campus is located in the beachside suburb of Sandy Bay, five minutes' drive south of the city centre. This scenic campus is close to shops, transport, accommodation, entertainment and services and is just a short walk from the Hobart CBD.
In addition to purpose-built teaching and learning facilities, this campus has a range of on-site amenities and resources, many of which are located in the Tasmanian University Student Association (TUSA) building on Churchill Avenue.
Located on Hobart's waterfront, the Institute for Marine and Antarctic Science combines Tasmania's strengths in marine and Antarctic studies in one precinct. The building provides unique facilities for around 300 students and staff.
The University also has significant teaching and research facilities in the Hobart CBD such as The Conservatorium of Music, The School of Creative Arts and Media and many more.
In addition to our main Hobart campuses, classes are also taught in smaller dedicated facilities around the city.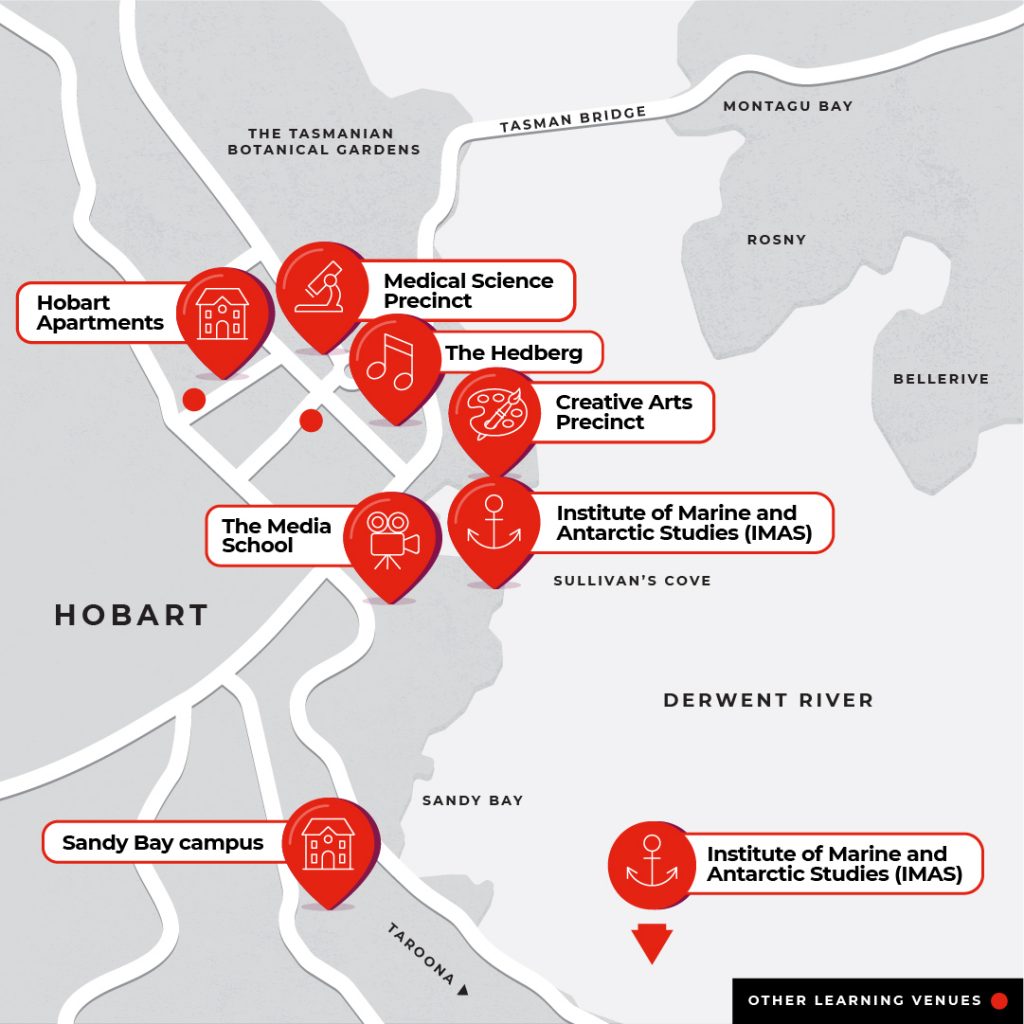 Maps include building names and purposes; automated external defibrillators (AED); emergency points; bicycle facilities, electric car charging, car parking and parking voucher machines; bus stops; showers; water refill stations and community gardens.
Maps are updated on a regular basis as our campuses transform.
In addition to purpose-built teaching and learning facilities, our campuses have a range of on-site amenities and resources.
All University of Tasmania campuses are now fully smoke free.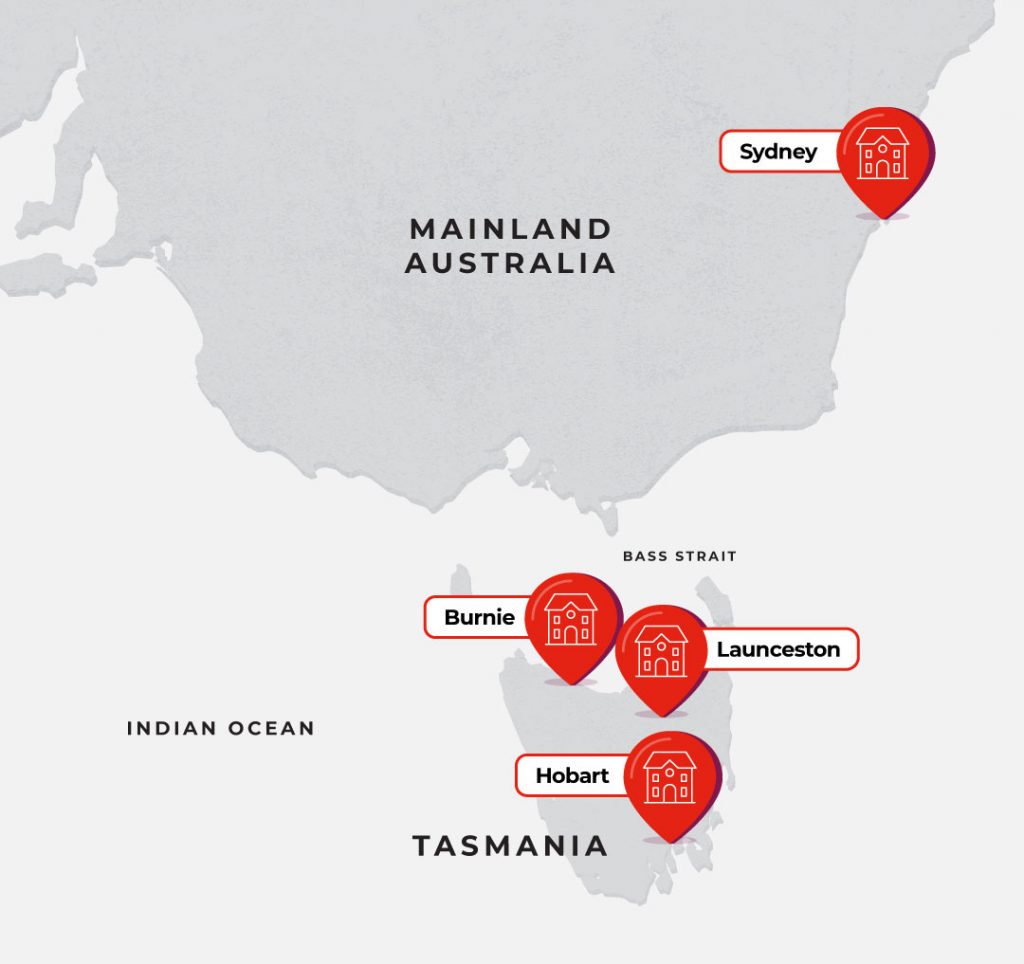 Take a look at the University's other campuses for progression courses
Tasmania is a very special place. No matter where you choose to study, you'll find yourself immersed in a vibrant campus lifestyle, filled with hands-on learning and adventure.
We have campuses in the three distinct regions of Tasmania: Hobart in the south, Launceston in the North and Burnie in the North West. We also have a specialised Nursing and Paramedicine campus in Sydney.
Our campuses build on their region's strengths, which means your learning is informed by the place you live in. We're also building exciting new campuses and spaces to connect you with industry and community.

Newnham campus is located beside the Tamar River, a short drive from the Launceston city centre. The Newnham campus is home to the Australian Maritime College.
The Inveresk campus, located near Launceston's CBD, is home to the School of Creative Arts and Media, School of Architecture and Design, and the Inveresk Apartments.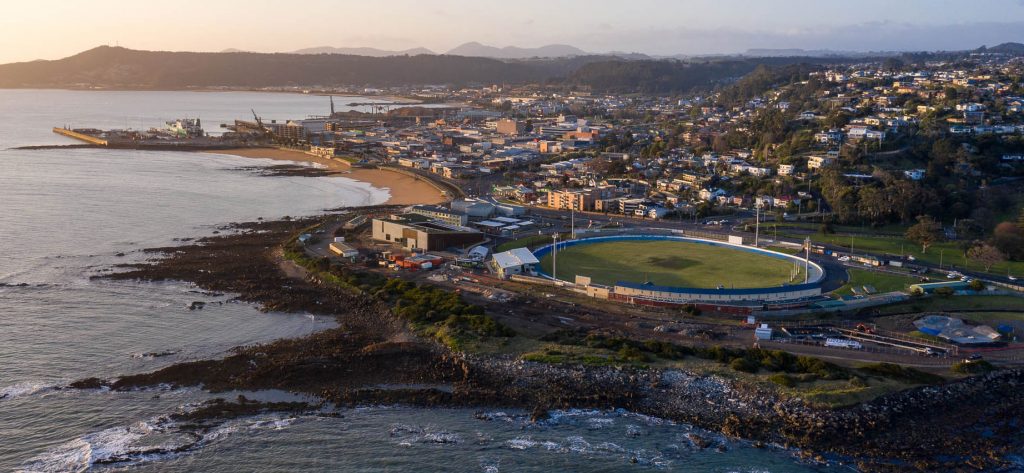 Based in Burnie, on the picturesque north-west coast, the Cradle Coast campus is set in peaceful rural surroundings and offers modern, purpose-built teaching and learning facilities. The campus is home to the Tasmanian Institute of Agriculture (TIA), University's Rural Clinical School (RCS) and student accommodation at West Park.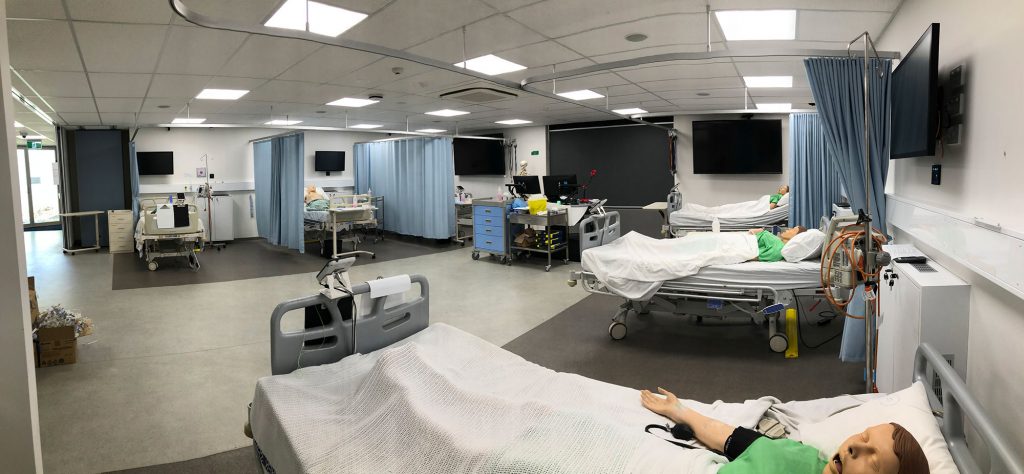 Located close to the Sydney CBD in Darlinghurst and west of the city in Rozelle, these campuses offer nursing, paramedic and health management education in partnership with local hospitals and health services.
In 2022 UTAS Sport are providing Campus Sport options for students and Staff
Basketball, Futsal, Netball, Table Tennis and Badminton
Hobart & Launceston campuses – all sports
Table Tennis – Burnie Campus
FREE for UTAS Students and Staff
Interested in joining a local sports club?
Whether you're out to experience something new or you want to pursue sport at its highest level, University of Tasmania affiliated sports clubs provide first-class equipment and sporting facilities for athletes at any level.